The best of San Miguel around the corner!
The privileged location of Quinta Tenerías allows our residents to enjoy the very heart of everything that is alive in San Miguel de Allende. It is exciting to be in the core part of the social, artistic and cultural life of a World Heritage City; look out the window and lose your eyes on the steeples and domes of Baroque churches scattered across the landscape of dazzling colonial facades of 17th and 18th century palaces. It is a real challenge to exhaust the possibilities of haute cuisine, entertainment and culture that are only a few steps away. The best of San Miguel literally around the corner!
From colorful festivals to intense excursions, San Miguel de Allende offers some of the best tourist attractions in Mexico. The captivating history and culture of the region allows you to enjoy diverse activities and cultural experiences.
Museums, Art Workshops and Galleries
Few places in the world offer such a wide range of art and culture concentrated in such a small space, not to mention that this little town has more than 300 cultural festivities a year. There is practically not a single street in the downtown of San Miguel that does not have a museum, art workshop, gallery or a site of historical interest. San Miguel de Allende is full of art and beauty to please the eye of the beholder.
Walking its Cobbled Streets
Strolling around San Miguel is in itself an experience that fills our five senses. Each step is an adventure of promise and discovery: exotic merchandise in some little shop hidden there, true treasures of art and crafts winking at us behind a discreet shop window, an intimate and romantic place ideal for a meeting of two, musicians and dancers who offer a happy and colorful show. All these picturesque scenes and characters suddenly appear in the cobbled streets of San Miguel, which turns everyday life into something magical and exceptional.
The Magic Sunlight of San Miguel
Those who have never been to San Miguel de Allende wonder why so many artists, writers, and painters live in such a small place. The answer is easy to find in the first sunset that we contemplate here. In San Miguel the best inspiration comes literally from the sky, filling the air with a palette of the most beautiful and daring colors. Mere sunlight is enough to make a poem, so be aware: those who are not artists become a kind of poets just by looking at a sunset.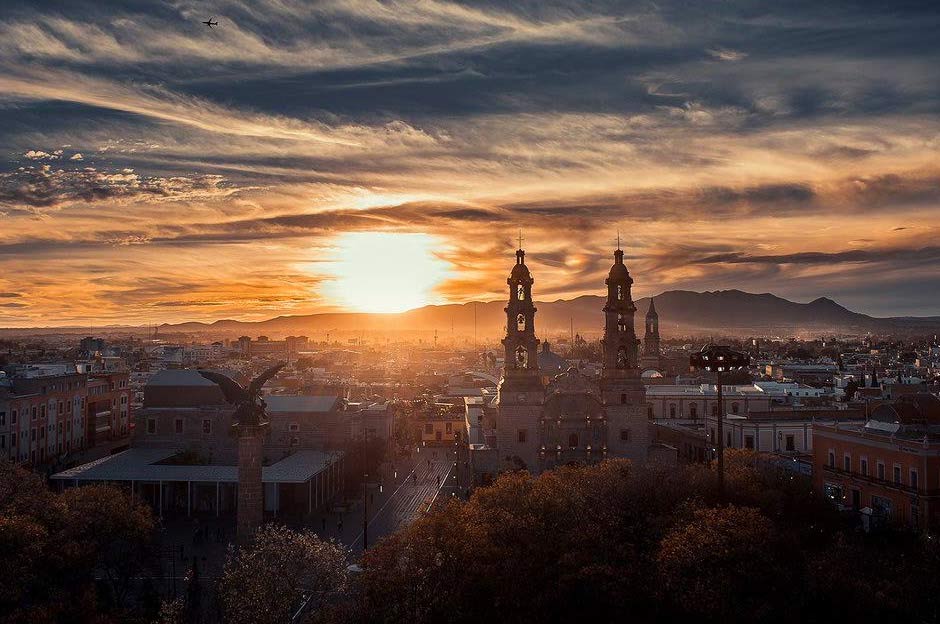 Experience The Thermal Hot Springs
The waters of San Miguel hot springs are known for their medicinal properties. There are a few sanctuaries around the area where visitors can experience a healing ceremony in the historic Temazcal, which has its roots in the ancient tradition of Mexico. They also offer spa services such as massages and facials for singles or couples and, of course, they begin or end the treatment inside the thermal pools. For a relaxing hot spring experience, visitors can spend an entire day in these natural healing paradises.
The wide offer of shops and boutiques is simply irresistible: from the most exquisite and elaborate jewelry made in silver to the most humble and charming flower stand sheltered in a corner. It is a pleasure to find everywhere products for all tastes and pockets made with the most diverse materials. And in a way it is so, since the manual skills of the artisans of San Miguel are as amazing as their daily life.
Experience an unforgettable hot air balloon flight over the beautiful town of San Miguel de Allende and the surrounding countryside to celebrate a special occasion during the flight, such as weddings and engagements, or simply reward your joyous spirit of adventure with an exclusive flight at sunrise.
After being an important piece of the regional textile industry, the walls of La Aurora Factory are now used to house galleries, art studios, jewelry and design stores. In this art and design center you can watch the work of many artists: there are about 50 galleries, as well as antique shops, a couple of restaurants and cafes. In this large complex you still will be able to see some of the big machines and pipes  that formed part of the textile factory.
Tenerías No. 19, Colonia Centro, 37700,
San Miguel de Allende, Guanajuato, México
Telephone
+1 (214) 396 9385 US
+52 (415) 100 1817 MX
© 2021 copyright Quinta Tenerías | All rights reserved
© 2021 copyright Quinta Tenerías | All rights reserved